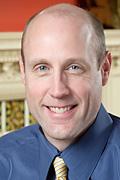 February 9: Richard Lewis, Office of Media Relations, Brown University
Richard Lewis has never stayed put for long. When he was 13, his parents uprooted him from his home in Houston, his friends, and his beloved sports (especially basketball) and moved his sister and him to Italy. Though he balked at the move, Lewis embraced a new (albeit old) world and has been curious about people and places ever since. Lewis joined a daily newspaper in Ames, Iowa in 1998, and after a brief stint, went to work for The Associated Press in Providence, R.I. It was at the AP that Lewis began to gravitate toward science and environmental reporting, and he covered all things science in southern New England. Lewis earned a master's degree in science journalism from the Graduate School of Journalism at Columbia University and has written about science and health for The Boston Globe, Reuters, and a variety of magazines. He is now the physical sciences writer for Brown University. He and his wife, Michelle, live in Bristol, RI and have two children.
February 23: Robert Krulwich, Co-Host and producer of RadioLab on NPR
NPR Science Correspondent Robert Krulwich, joins Jad Abumrad in studio as co-host of Radiolab. Robert Krulwich has been called "the most inventive network reporter in television" by TV Guide. His specialty is explaining complex subjects – science, technology, economics – in a style that is clear, compelling and entertaining. He has explored the structure of DNA with a banana, explained arbitrage by wearing Groucho glasses and illustrated the Texaco-Pennzoil battle with Barbie and Ken dolls. A Special Correspondent for ABC News, Krulwich appears regularly on Nightline and other news programs, including ABC News Tonight and Good Morning America.
March 9: Nancy Baron, Director of Science Outreach for COMPASS
A zoologist and science writer, Nancy is the Ocean Science Outreach Director for COMPASS. She is also the lead communications trainer for the Aldo Leopold Leadership Program. In these capacities, she works with environmental scientists helping them translate their work effectively to journalists, the public and policy makers. Nancy holds communications training workshops around the world for academic scientists, graduate students and post docs as well as government and NGO scientists. She has an interdisciplinary Masters degree in Global Marine Studies from the University of British Columbia, a B.Sc. in Zoology and has won numerous science writing awards. In August 2010 Nancy completed a communications guide book for scientists titled Escape from the Ivory Tower: A Guide to Making Your Science Matter (published by Island Press). This book summarizes her ten years of experience working as a personal coach and trainer to many well-known environmental scientists. It includes contributions from her COMPASS colleagues, as well as the voices and experiences of leading journalists and scientists.
March 16: Chad English, Director of Science Policy Outreach, COMPASS
Chad directs COMPASS' work to build constructive dialogue between ocean scientists and the policy and management communities.  His work brings scientists and policymakers together for conversations that drive new thinking and new approaches to ocean science and ocean policy.  Chad received his PhD from Scripps Institution of Oceanography studying how coastal systems responded to upwelling winds.  He first came to Washington, D.C. to serve a John A. Kauss Marine Policy Fellowship in the Senate Commerce Committee on Commerce, Science and Transportation.  Following his fellowship, Chad worked for the House Committee on Science on a range of issues, including ocean science and governance.  Chad also has a Bachelor's degree in Physics from the University of California at Santa Cruz, and worked at the U.S. Geological Survey supporting operational models of the San Francisco Bay.
April 27: Alan Harlam, Brown University's Social Innovation Initiative
Alan Harlam is the Director of Social Entrepreneurship at the Swearer Center for Public Service at Brown University. In that role, he launched the Social Innovation Initiative (SII), that involves and educates students about social entrepreneurship through courses, internships, lectures and participating in student led projects; develops leadership by supporting students through the design & launch of innovative social ventures; and supports the sustainability, impact and growth of these ventures through mentoring, services and networks. SII has supported early stage ventures with strategic planning, organizational and governance design, communications plan, and funding – including three winners of the Echoing Green Fellowship in the past two years. A list of active projects can be found on the Swearer Center web site.
May 4: Juliet Eilperin, Environment Reporter for The Washington Post
Juliet Eilperin is a born-and-bred Washingtonian who joined The Washington Post in March 1998 as its House of Representatives reporter. Since April of 2004 she has served as the Post's national environmental reporter, reporting on science, policy and politics in areas including climate change, oceans, and air quality. In pursuit of these stories she has gone scuba diving with sharks in the Bahamas, trekking on the Arctic tundra with Selma Hayek and Jake Gyllenhaal, and searching on her hands and knees for rare insects in the caves of Tennessee. Juliet launched the Post Carbon blog in December 2009. In the wake of the Deepwater Horizon explosion in April 2010, Ms. Eilperin wrote several investigative pieces exposing the lack of federal oversight over offshore drilling. Look out for Ms. Eilperin's second book, "Demon Fish: Travels Through the Hidden World of Sharks," to be published in June 2011 by Pantheon.