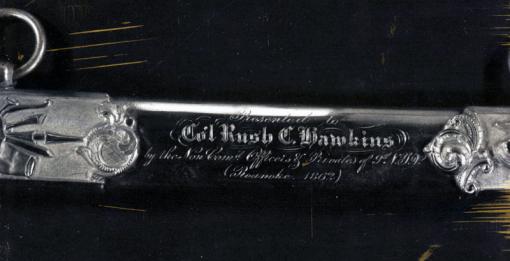 PROVIDENCE, R.I. [Brown University] — The U.S. District Court for the Eastern District of Virginia entered a judgment Tuesday, June 4, 2013, confirming that Brown University is the lawful owner of a Civil War-era silver Tiffany presentation sword — the Rush Hawkins sword — reported stolen from the University's collections in 1977.
Col. Rush Hawkins led the 9th New York Volunteers — "Hawkins' Zouaves" — during the first two years of the Civil War. Fifty prominent New Yorkers, including the governor and the mayor, recognized his service with a Tiffany silver presentation sword. The sword includes a figure of a Zouave carved into the grip and a list of the 9th New York Volunteers' battles inscribed along the blade. It was presented to Hawkins in May 1863.
Hawkins went on to great financial success as a lawyer in New York City and became one of the world's leading collectors of incunabula, early printed books. He had long-planned to build a library to house his impressive collections. After the death of his wife, Annmary Brown, the grand-daughter of Nicholas Brown, after whom the University is named, Hawkins wrote, "No words at my command are equal to the expression of my desolation and loneliness. Existence now is tolerable only because linked with sweet memories of the past." He then re-conceived of this library as "The Annmary Brown Memorial," a repository and crypt noting, "It is first of all a memorial to a woman of noble character. It is secondarily a collection of art treasures."  Hawkins endowed the Memorial with his collection of incunabula, paintings, and artifacts of his Civil War service, including the Tiffany sword.
Today, the Annmary Brown Memorial's collections are an invaluable resource for scholars of Renaissance learning and for art dating from the Middle Ages to the early 20th century. The sword will return to Rhode Island this summer after 36 years away, during which time it resided in at least four private collections. Its journey home to Brown follows legal proceedings that lasted nearly two years and recovery efforts of more than two decades.
The Brown University Library is home to more than 6.8 million print items, plus a multitude of electronic resources and expanding digital archives serving the teaching, research, and learning needs of Brown students and faculty, as well as scholars from around the country and the world. http://library.brown.edu/